Securing your anchor.
On boats where the anchor is mounted on the bow roller there is often considerable abrasion from the anchor swinging about and jumping up and down in its resting place.
The best solution is to use a short lashing to pull the anchor up to one side as far as it will go. This ensures that it can not crash and bang with every wave.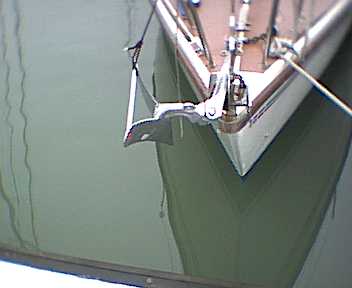 One danger of storing your anchor on the bow roller is that of catching it on another boat or its fittings when you are manoeuvering in a tight space.
It is often worth restowing it temporarily when entering and leaving a berth to remove this risk.
Sailtrain.co.uk is free to use, but if you feel you would like to contribute to the running and development costs you can donate via Paypal: